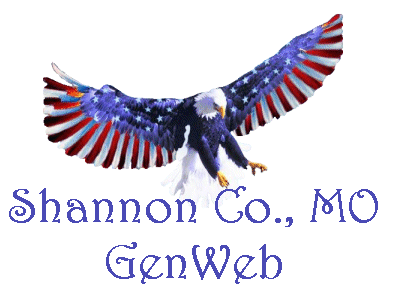 Bethany Chapel Cemetery
a/k/a Bethel Cemetery
Go East on 106 Highway from Eminence, Mo approximately 4 miles, (second Shawnee Creek) .
Turn right on 106-Co Rd 507 and go approximately 2 miles. Submitted by Johny W. Sconce.
GPS Coordinates: Latitude: 37.14220, Longitude: -91.28760
Photos Posted at Findagrave.com
Updated Jan. 16, 2014
A - B C D E - F G H - I J K L M N - O P - Q R S T U - V W XYZ
© 2003 - 2017 by Shannon County Coordinators or individual contributors as shown. No portion of this site is to be considered public domain and is not to be reproduced for any purpose without express written consent of the owner of the material.