'Grandma Harrod's Ninety Third Birthday Anniversary at Ira Williams' Residence, Greer, MO, May 28, 1914'

Nancy Ellen Allison Peachee Harrod
28 May 1821 - 01 Dec 1918
Daughter of Joseph Allison & Mary Ragsdale
Married 1st Hiram Peachee 12 Jun 1841 in Davies Co IN; children Louisa & Melissa.
Married 2nd William McKamey Harrod 23 Feb 1847 in Davies Co IN; children
George Washington Harrod (m. Martha Ann Jarutha Greer);
Ann Elizabeth Harrod; Mary Malina Harrod (m. Alex Collison);
Lydia Ann Harrod (m. Lewis W. Greer; m. William Harvey Blankenship; m. George Finley Weldon; m. William Chilton;
Joseph Harrod; John A. Harrod; Thomas Harrod;
William Ellsworth 'Billy' Harrod (m. Katherine J. 'Kate' Strosnider) and
Catherine 'Kitty' Harrod (m. Ira Moss Williams).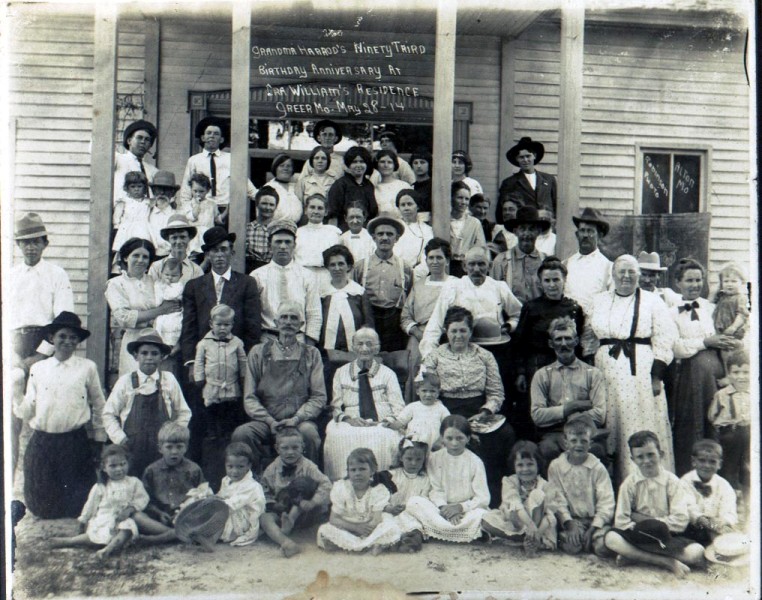 1st Row: Syntha Kent, Dan Pitts, Sylvia Robinson, ____Robinson, Grace Whitehead, Nora Harrod, Dora Harrod, Vera Whitehead, Mike Hall, Ray Hall, Depho Hall, Kent boy, Cora Kent.

2nd Row: Guy Williams, Clyde Williams, Dunigan boy, George Harrod, Grandma Harrod (her 93rd birthday), Lyda Blankenship, Billy Harrod, Mrs. Roberts.

3rd Row: Oscar Cauhorn, Ellen Dunigan, Anice Dunigan, George Morman, Alta Morman, Ira Williams, Kitty Williams, Tom Barrett, Gib Hall, Tom Kent.

4th Row: Gladys Whitehead, R.M. 'Dick' Johnson, Ray Hall, Hall girl, Ann Hall, Mrs Morman, Mrs Cowhorn, Beulah Whitehead, Mittie Hall, MrsTinsley, Mrs Pitts, Mrs R. M.Johnson, Gibb Hall.

5th Row: Carlus Pitts, Everett Williams, Rosa Smith, Golda Pitts, Rachel Shehorn, Maude Waller, Laura Gazaway, Amy Waller, unknown, Walter Hall and Laura Williams.