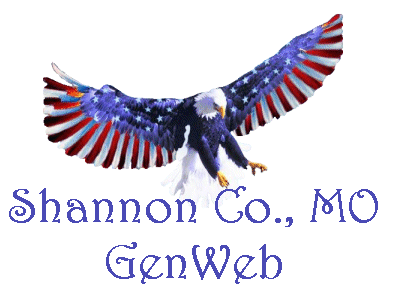 MAHAN BURIAL GROUND
West Eminence - Mahan's Creek
Cemetery on the farm of "Uncle Jimmy" Mahan, Mahan's creek southwest of West Eminence.
---
Mahan, James P. Mahan Mar. 29, 1841 - Feb. 14, 1927. Son of James 'Jim' Mahan (KY or PA) & Sarah
Perkins. Married Ida May Loyd. MO Death Cert.#6927. Age 85 years, 10 months, 15 days. Passed away
due to 'infirmities of age.' Dr. Frank Hyde attending. Informant C. H. Miller, Eminence. Burial Feb. 15, 1927. Civil War veteran.
---
© 2003 - 2014 by Shannon County Coordinators or individual contributors as shown. No portion of this site is to be considered public domain and is not to be reproduced for any purpose without express written consent of the owner of the material.