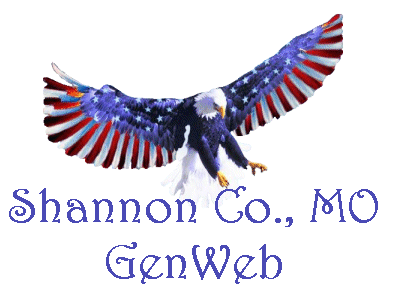 HORNER CEMETERY
Rocky Creek Shannon County, MO
GPS Coordinates: Latitude: 37.07933, Longitude: -91.2495

From Hwy 19 and H Winona, MO, go NE on H Hwy 7.9 miles, turn right, go 0.5 miles to Horner Church. Take the right fork, cemetery is on the left. You can also park at the church at walk up the hill.
There are a lot of unmarked graves, or graves marked with stones.
Photos are Posted at Findagrave.com

Updated Feb. 18, 2018
---
Pearson, Shannon Deloris 'Dee' Weible Feb. 7, 1962 - Apr. 30, 2017. Memorial

DOUBLE: Married 1949.
Pollman, Adolph H. 'Al' Aug. 16, 1902 - Jan. 14, 1970. Married 1) Beulah Elizabeth Gross, mother of Lenore 'Ann' Hummel Houston, James Authur 'Jim' Pollman, and Neal Pollman.
Pollman, Nola Odessie 'Dess' Norris Oct. 7, 1910 - Jul. 17, 1971. Daughter of Lewis Jiles 'Lew' Norris & Nancy Elizabeth 'Lizzie' Jones. Married 1st Everett R. Dillard; son Eugene. Married 2nd Earl W. Boien. Obituary

Pollman, James Auther 'Jim' Nov. 4, 1931 - Feb. 10, 2005. Son of Adolph H. 'Al' Pollman & Beulah Unknown. Obituary

Pope, Daisy L. 1912 - 1951. Daughter of William E. Pope & Rosa Ann Thomas.
Pope, Ray Edward Aug. 8, 1916 - Oct. 20, 1916. Son of William E. Pope & Rosa Ann Thomas.Known to be buried here.

Pope, Rosa Ann Thomas Apr. 25, 1886 - Mar. 4, 1937. Daughter of Shelby Thomas & Eliza Ann Brown. Married William E. Pope 30 Oct 1906 Shannon Co MO. Mother of Floyd, Violet, Oliver, Rosetta, Bessie, Sadie, Fred Otto, Dale, Daisy L. & Ray Edward Pope.

Powell, Nola Leigh Norris Aug. 13, 1943 - Feb. 27, 2016. Memorial
---
Return to Cemetery Index
© 2003 - 2018 by
Shannon County Coordinators
or individual contributors as shown. No portion of this site is to be considered public domain and is not to be reproduced for any purpose without express written consent of the owner of the material.