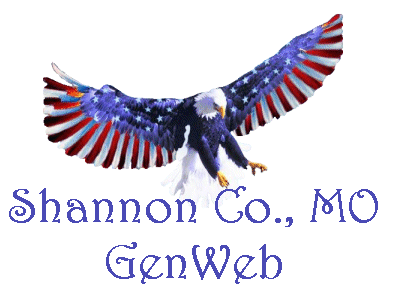 HORNER CEMETERY
Rocky Creek Shannon County, MO
GPS Coordinates: Latitude: 37.07933, Longitude: -91.2495

From Hwy 19 and H Winona, MO, go NE on H Hwy 7.9 miles, turn right, go 0.5 miles to Horner Church. Take the right fork, cemetery is on the left. You can also park at the church at walk up the hill.
There are a lot of unmarked graves, or graves marked with stones.
Photos are Posted at Findagrave.com


Updated Oct. 15, 2014
A B C D E F G H - I J K L - M N O P - Q R S T U - V W XYZ
---
Jackson, Agnes Evelyn Thornton Feb. 3, 1887 - Jan. 15, 1913. Daughter of John Lafayette Thornton & Nancy Morgan. She was the wife of William Jackson. Died at Buckeye (Flip post office). Burial at Rocky Cemetery on Jan. 16th. MO Death Cert.#3809.
Jackson, George M. May 4, 1896 - Oct. 12, 1951. 'Brother.' Son of George Washington Jackson & Nancy Jane Ross. MO Death Cert.#36103: Veteran of WWI. Farmer. Never married. Died at home near Winona. Informant Manual Chronister, Winona. Burial Oct. 15th at 'Shawnee.'

Jackson, George Washington Aug., 1855 - Jul. 17, 1906. 'Brother.' Born in Tennessee. Son of John Jackson & Susan T. Skillern. Married 1) Mary A. Craig abt. 1876. Married 2) Nancy Jane Ross 25 Dec 1887 Shannon Co MO.

Jones, William Feb. 16, 1845 - Mar. 6, 1922. Son of Richard Jones & Eliza Stallcup Mitchell. 'Pvt. in CO A, 11 Reg, MO Cav, Civil War, Union'. Married Elizabeth Elvira Turley 04 Oct 1866. She is buried at Pleasant Site Cemetery, Fremont MO. Parents of Emily Alzonia (m. George Hollis), Margaret O. 'Maggie' (m. John E. Thomason, m. John D. Williams), Eliza Ann (m. James M. Clayton), Irabelle 'Belle' (m. James McLemore 'Mack' Bruce), John George (m. Mary Catherine Kelley), William Elvie 'Ev' (m. Verna V. Legg) & Nancy Elizabeth 'Lizzie' (m. Lewis Jiles 'Lew' Norris). They lived and raised their family in the Pike Creek area of Carter County. NOTE: Other researchers have the name William E. 'Elvie' Jones.

Jordan, Francis Marion Stillborn Dec. 29, 1928. Son of James Jordan and Thelma Willis Jordan.
---
© 2003 - 2018 by Shannon County Coordinators or individual contributors as shown. No portion of this site is to be considered public domain and is not to be reproduced for any purpose without express written consent of the owner of the material.