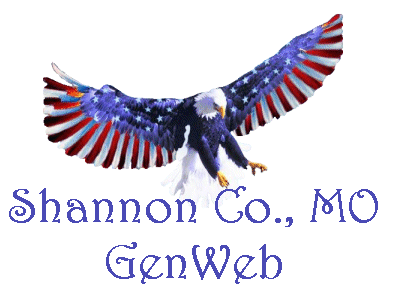 HORNER CEMETERY
Rocky Creek Shannon County, MO
GPS Coordinates: Latitude: 37.07933, Longitude: -91.2495

From Hwy 19 and H Winona, MO, go NE on H Hwy 7.9 miles, turn right, go 0.5 miles to Horner Church. Take the right fork, cemetery is on the left. You can also park at the church at walk up the hill.
There are a lot of unmarked graves, or graves marked with stones.
Photos are Posted at Findagrave.com


Updated Sep. 28, 2010
A B C D E F G H - I J K L - M N O P - Q R S T U - V W XYZ
---
Herbst, Heath Thomas Jan. 22, 1986 - Sep. 21, 2010. Son of Donita Barkley & Stephen Herbst. Brother of Jay Simpson and Wes & Andy Herbst. Dear uncle of Garen, Lina, Kara, Abigail and Gabriel. Obituary
DOUBLE:
Hobbs, Jay K. Aug. 9, 1930 - Feb. 15, 2002.
Hobbs, Josephine A. 'Josie' Price Nov. 18, 1934 - Dec. 3, 1995. Daughter of Dee Price & Alice Pearl 'Allie' Yearwood.

DOUBLE: Married Nov. 2, 1884 Travis Co TX.
Hudson, Annias Powhatten Mar., 1849 - Apr. 6, 1936. 'Father.' Son of Edward F. Hudson & Sarah Ann Frances Watson. Born in Arkansas, died in El Dorado KS. Married 1st Virginia Josephine Gallaher Aug. 20, 1874 Ripley Co MO; parents of 4 children, only one lived to adulthood, Alice Dorenda Hudson (m. Henry DeWeese, m. Netter Lowell DeWeese). Obituary

Hudson Hilton, Samantha Paralee 'Nannie' Atterbury Feb. 29, 1860 - Apr. 2 (or 8), 1962. 'Mother.' Daughter of Edmon Atterbury & Martha Ann Morgan. Parents of Jesse Alene Hudson (m. Andrew Powell Bales) & Annis Hudson (m. Jenny Lee Swiney). Nanny married William T. Hilton Aug. 19, 1939; she was his 5th wife. Obituary
---
© 2003 - 2014 by Shannon County Coordinators or individual contributors as shown. No portion of this site is to be considered public domain and is not to be reproduced for any purpose without express written consent of the owner of the material.