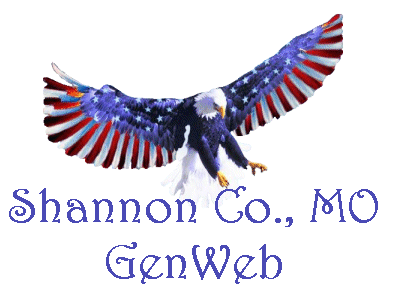 HORNER CEMETERY
Rocky Creek Shannon County, MO
GPS Coordinates: Latitude: 37.07933, Longitude: -91.2495

From Hwy 19 and H Winona, MO, go NE on H Hwy 7.9 miles, turn right, go 0.5 miles to Horner Church. Take the right fork, cemetery is on the left. You can also park at the church at walk up the hill.
There are a lot of unmarked graves, or graves marked with stones.
Photos are Posted at Findagrave.com


Updated Sep. 28, 2010
---
Green, Angeline Starks Mar. 3, 1848 - Aug. 15, 1913. MO Death Cert.#35090: Daughter of Thompson Starks & Elander Morgan. Widowed. Burial Aug. 16, 1913. Informant Jno. Green, Flip, MO. Findagrave link

Green, Jasper Aug. 9, 1866 - Jan. 8, 1942. 'Age 75 y 4 m 29 d.' Son of Enoch Green (KY) & Rachel Sparks (KY). MO Death Cert.#22421: Born in Breathitt Co KY; died at rural Shannon County, his home of 25 years. Married to Ida, age 64 years. Burial Jan. 10, 1942. Informant Lawrence Murphy, Winona.
---
© 2003 - 2018 by
Shannon County Coordinators
or individual contributors as shown. No portion of this site is to be considered public domain and is not to be reproduced for any purpose without express written consent of the owner of the material.