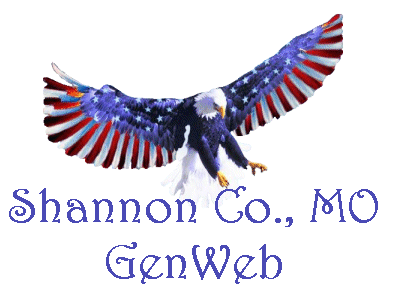 HORNER CEMETERY
Rocky Creek Shannon County, MO
GPS Coordinates: Latitude: 37.07933, Longitude: -91.2495

From Hwy 19 and H Winona, MO, go NE on H Hwy 7.9 miles, turn right, go 0.5 miles to Horner Church. Take the right fork, cemetery is on the left. You can also park at the church at walk up the hill.
There are a lot of unmarked graves, or graves marked with stones.
Photos are Posted at Findagrave.com

Rev. Jul. 29, 2008
A
B
C
D
E
F
G
H - I
J
K
L - M
N
O
P - Q
R
S
T
U - V
W
XYZ
---
DOUBLE: Married Aug. 31, 1984.
Davis, Robert Douglass 'Doug' Aug. 5, 1940 - Oct. 22, 2002. Son of Robert Lee 'Bus' Davis & Thelma Beatrice Douglass.
Davis, Sharon Kay Tucker Living-Reserved. Daughter of William W. 'Wash' Tucker & Ava Viola Norris Campbell.
DeWeese, Alice Dorenda Hudson Feb. 7, 1879 - Jan. 20, 1920. Born at Travis Co TX, died Shannon Co MO. Daughter of Ananias Powhatten Hudson & Virginia Josephine Gallaher. Married 1st Henry DeWeese (divorced); parents of Floyd O. DeWeese (m. Dell Houston), Loyd C. DeWeese (m. Johannah 'Hanah' Hogan) & Thelma DeWeese (m. Harley O. Atkins). Married 2nd Netter DeWeese (brother of Henry); parents of Goldie Opal (m. Unknown Thompson) & Waymon DeWeese (died young).
Note: Stone has been broken and repaired.

Donley, Joseph Jackson 'J. J.' Sep. 18, 1922 - Feb. 26, 2006. Son of Joseph Donley & Gladys Smith. Obituary
Donley, Philip Joseph Jan. 24, 1979 - Jan. 1, 2000. Son of Kevin Jackson Donley & Vickie Unknown. Grandson of Joseph Jackson 'J. J.' Donley & Katherine Ruth 'Kay' Osborne.

Downs, Billy Joe 'B. J.' Aug. 19, 1948 - May 4, 2005. Son of William E. 'Bill' Downs & Lois Campbell (Barkley). Obituary

Drake, Charlotte Marie Vermillion Mar. 23, 1945 - Jun. 29, 2006. Daughter of Charlie Vermillion & Addie Ruth Brawley. Obituary
Duncan, Pearl N. Aug. 28, 1899 - Jul. 20, 1923. No death certificate found.

Duncan, Pinina Dec. 7, 1894 - Sep. 15, 1918. No death certificate found.

Duncan, Ray Hampton Dec. 1, 1911 - Aug. 14, 1912. MO Death Cert.#34996: Son of Jessie Duncan & Minnie Huff. Died at 'Boland' (Bowlan, Shannon Co MO. Informant Jesse Duncan, Deslet MO. Burial Aug. 14, 1912.
---
© 2003 - 2014 by Shannon County Coordinators or individual contributors as shown. No portion of this site is to be considered public domain and is not to be reproduced for any purpose without express written consent of the owner of the material.