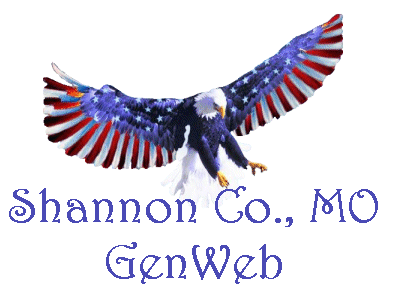 CAMPBELL CEMETERY
DESLET, SHANNON COUNTY, MISSOURI
(From Find A Grave: Cemetery notes and/or description:

Cemetery is located at 37 degrees 08' 22" North x 91 degrees 07' 48" West. Cemetery
defined by wire fencing about 25 feet x 15 feet.
There are at least five marked grave sites within the fence, but only Nancy Campbell's
has an inscription. Other stones were probably not marked or if they were, time and the
elements have removed the stone's information. There were several small stones that might
be for deceased children.

The Campbells were original homesteaders in this area ca 1858 and 1860. Nancy was married to James Campbell and they show up on the early census' in this area.
All information and photographs pertaining to this cemetery has been provided by Mr. Randy Long. It was brought to
Mr. Long's attention that the cemetery had been damaged by crews cleaning the right of ways for the power lines in
the summer of 2010. Mr. Long is in the process of seeing that someone takes responsiblity for those damages and
sets a new perimter fence.
Nancy's stone was run over and pushed into the dirt, but the extent of any possible damage is unknown at this time.
It is preferred to wait until someone takes responsibility and sees to it that a professional makes any needed repairs
and re-sets the stone. Thank you Randy!
New pictures added of cemetery after repairs were made in 2011.
Thanks again to Randy Long who allowed me to post them. ~ Cathy Hill
---
Campbell, Nancy Ann Wilburn Died Nov. 20,1874. Daughter of Malinda (Chronister) Wilburn (per 1850 census, Shannon Co, MO) Wife of James Mehlander Campbell. Sister of: Rebecca Mandy Wilburn Slusher Hill, Artemissa Wilburn Speer Chitwood, Mary Jane Wilburn Williams and Thomas J Wilburn. Headstone in unnamed cemetery on lands belonging to Ozark National Scenic Riverways.
Thank you to John Hill for this information
---
Return to Shannon County Cemeteries Index
© 2003 - 2015 by Shannon County Coordinators or individual contributors as shown. No portion of this site is to be considered public domain and is not to be reproduced for any purpose without express written consent of the owner of the material.