BUNCH FAMILY GRAVE YARD
Bee Bluff
Located on old farm once belonging to Andrew 'Drury' Bunch, brother of David Bunch, Sr.
The will of Drury Bunch dated Nov 6, 1899 gives this description of the location:
Section 78, and section 24, twp North 31, Range 8 West contained 71 acres.
Please contact me if you have information about this cemetery of anyone who is buried here.
Updated Mar. 27, 2011
---
BUNCH, Andrew 'Drury' Died November 12, 1899. Died at Rat, Shannon Co, Mo.

The Current Wave - Nov. 23, 1899
Jessie E. Heaton and Andrew Bunch, Jr., were in town from Moore Township last Saturday. They report the death, on Sunday, The 12th inst., of Andrew Bunch Sr., an old resident of the north part of the county, and a brother of David Bunch of Current River.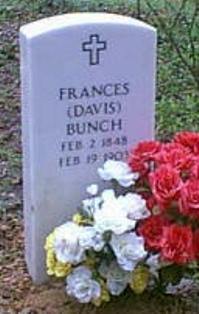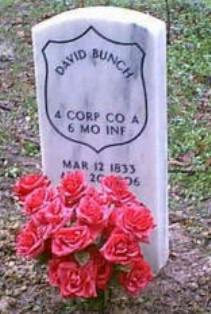 HUSBAND & WIFE: Married 23 Jul 1865 at Irondale Washington Co MO (Bk C, P52).
BUNCH, David J. Mar. 12, 1833 - Aug. 20 1906. Son of Andrew 'Drury' Bunch, Sr., and Francis C. Davis. He was born in Cumberland Co KY, and died in Shannon Co MO, age 73.

BUNCH, Frances C. Davis Feb. 2, 1848 - Feb. 19, 1903. Daughter of Luke Davis & Rachel Fields. Born at St. Francois Co MO. Parents of Luke Bunch; Rachel Annie (Mrs. Andrew J. McIntire); David J. Bunch, Jr.; Phillip Bunch; Jesse M. Bunch; Alice Bunch (Mrs. James M. Perry); Julia Emily Bunch; James Arthur Bunch; Susan Bunch and Butler Bunch. Source: Robert L. Davis, whose source was The Family Bible of Julia Bunch.

"The Current Wave, Aug. 16, 1906 - Home Happenings - Dave Bunch, an old citizen of Shannon, living on Current River, died on Monday, aged about 70 years. Mr. Bunch lived here for years, and was well known by all the early settlers. He raised a large family of boys, several of whom live in the vicinity of the old homestead. Dave Bunch, in his prime, was a splendid specimen of physical manhood, being over six feet tall and very active and strong. He was counted one of the best men in the county in that day, physically, and had plenty of grit also, and he saw many 'scraps' in his day. He was strictly honest and though uneducated, was a good business man. We regret to see these old landmarks pass away, for they remind us that the world is rapidly changing, and often we lose men whose places are hard to fill. Mr. Bunch lived the allotted three score and ten years, and was strong and active until shortly before his death."


NOTE: One descendant claims the Francis Unknown, wife of Drury Bunch, purported above to be the mother of David J., was actually David's stepmother. The date listed previously, Aug. 20, 1906, as the date of death for David, is believed to be in error so based on this researcher's comments, and on the article appearing in the paper (above), a specific date is not included here until it becomes available.
http://shannon.mogenweb.org/Families/Descendants%20of%20David%20Bunch,%20Sr.htm
Bunch, Judith Elaine Feb. 22, 1944 - Mar. 26, 1944. Daughter of Norman Bunch & Artie Clark Bunch. Born and died in St. Louis County. She lived only a short time. There is no marker for her grave. Information from Pearl Bunch, 3/27/11
---
Return to Shannon County Cemeteries Index
© 2003 - 2017 by Shannon County Coordinators or individual contributors as shown. No portion of this site is to be considered public domain and is not to be reproduced for any purpose without express written consent of the owner of the material.