BOWLAN GRAVEYARD
Also known as Moss Cemetery, Boland Cemetery, Paint Rock Cemetery, Bowen Cemetery.
Deslet Shannon Co MO
CR 626 Reynolds/Shannon County Line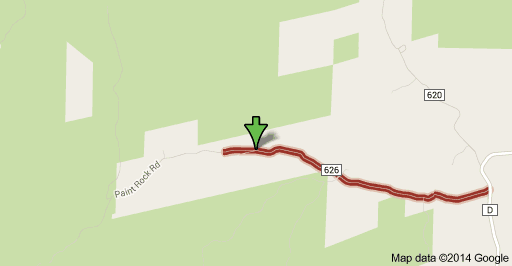 Take highway 106 to highway HH. Take a left on HH and go approximately 3.1 miles to the Current River Conservation sign on the left at the top of a steep hill. Take this left at the sign onto Trail 15 for approximatley 2.4 miles. Arrive at Trail 16 on the right. Turn right and travel approximately 2 miles to a "T" in the road. This road is Paint Rock Road or at some point, County Road 626. (There are no road signs at this point to indicate) Take a left at this "T" and travel approximately 4/10th mile to a road on the right that goes uphill and forks. If the blue "Cemetery" sign is still there, it will be on the left fork. Follow this road approximately 1/10th mile to the fenced in cemetery.
A car should be able to travel this. If it has been raining alot, some of the creeks will be running, so take this into consideration before heading out. Most of it is NOT mowed. Wear long pants and bring bug spray. You might need something to knock down the weeds if you are looking to take pictures.
Updated Jan 27, 2014
---
Adair, BetsAnn Elizabeth 'Annie' Hedrick Oct. 16, 1867 - Nov. 24, 1959. Daughter of Wesley Hedrick and Margaret Hanger. Memorial
Adair, John Dec. 9, 1897 - Aug. 1, 1936. Son of Henry Adair of Arkansas and Betsy Ann Hedrick of Missouri. Husband of Leona. He was a tie maker. Died in an accident. Apparently he was riding on a log truck when the truck went off the road and the logs crushed him.
Adier, John Henry, Jr. Nov. 25, 1862 - May 16, 1940. Son of John Henry Adier, Sr., of Arkansas and Caroline Dawson of Missouri. Husband of Anna. Died of interstitial nephritis and hypertension.

1910 census Reynolds county
Head: Henry Adier M 47 Arkansas, Wife: Annie Adier F 36 Missouri; Son: John W Adier M 14 Missouri

1930 census Carter county
Head: Henry Adair M 67 Missouri; Wife Annie Adair F 57 Missouri

1940 census Carter county
Head: John H Adair M 77 Arkansas; Wife: Annie L Adair F 73 Missouri
Baty, Elmer Abe Mar. 17, 1863 - Nov. 17, 1940. MO Death Cert.#44050: Widower of Addie. Son of Alfred Baty (Iowa) & Sarah Clark (Iowa). Born at Jackson Co IA; died at Eminence. Elmer W. Baty of Van Buren was informant.
Note: Elmer Baty's wife was Syntha Adaline Saig or some variation therof. Her death certificate states she was born in Nov., 1871, in Iowa, and died Jul. 8, 1921, at Bowlan in Shannon Coiunty. She was the daughter of Zachariah Saig of Kentucky & Elizabeth Hawkins. Elmer was the informant on her death certificate and listed his address as Van Buren. The undertaker was from Ellington.
The 1900 census for Otter Creek, Jackson Co IA, has the following:

Marriage Year: 1888
Years Married: 12
Household Members:
In 1920 Cynthia and children are still living at Bowlan.
Household Members:
Britt, Rolla Mar. 4, 1857 - Feb. 18, 1923. Husband of Julia Britt. Death certificate states he is a son of Rolla Britt and Julia Fissel, but his name is Rolla and his wife is Julia. It is my guess that is incorrect. Died of gastric carcinoma, acute bronchitis.
Dodson, Dwayne Lee 1953 - 2006. Son of Raye Catherine Campbell Dodson.
Dodson, Raye Catherine Campell May 6, 1926 - Mar. 26, 2000.
Eaton, Stanley Alfred Dec. 23, 1928 - Oct. 14, 2008. Memorial
Ford, Ray Franklin Nov. 12, 1915 - Jan. 2, 1916. Grave Photo
Ford, William Oral Jan. 5, 1911 - Mar. 6, 1931. Son of Isaac and Mary Ford. Died of mitrol stenosis, contributory epilepsy.
HUSBAND & WIFE:
Hedrick, Margaret Hanger Mar. 15, 1845 - Nov. 1, 1911. Daughter of Peter Hanger and Rebekah "Betsy" Ann Messes. Died of broncho pneumonia. Memorial
Hedrick, Wesley Died 1891 Memorial
Hedrick, Neoma Aug. 19, 1898 - Aug. 27, 1911. Age 13y 8d. Daughter of Zimriah Hedrick (MO) & Syntha Emeline Lane (Reynolds Co MO). Died at Bowlan Shannon Co MO. Burial Aug. 28, 1911. Informant on d.c. Edward Martin Bowen (Syntha Emeline's 2nd husband).
HUSBAND & WIFE: Married ca. 1865.
Morris, Joshua Born ca. 1810 - 1814, KY; died 1897 Shannon Co MO. Son of Moses Morris & Susanna Unknown. Grandson of Robert Morris of Philadelphia PA. Married 1838 Luvey Hyatt. Children Susan (1852, Mariah (1856) and Martin (1864).
Morris, Martha Lorene (Parcus?) Daughter of Walking Rain, an Osage Indian Chief. Born ca. 1835 MO. Children Sarah 'Caroline' (1867), Mercy E. (1868), Hettie (1868), Sadie (03 Jun. 1869 - m. James Collier), Sabra (Jun. 1870), Alfred (1872), Julia A. (1876) Ruth (1878) & Sira Morris (Sep 1883, born Ozark MO). All his children born in MO.
A communication was received from Jim Morris regarding the inaccuracy of this listing. Follow this link for more information.
In doing a little further digging, I found some interesting links:
These links regard Walking Rain, Osage Indian Chief:
http://www.150.si.edu/siarch/guide/catlin.htm
http://www.firstpeople.us/FP-Html-Treaties/TreatyWithTheOsage1818.html
http://skyways.lib.ks.us/genweb/archives/1918ks/v1/ch10p5.html
http://www.kansasgenealogy.com/indians/lands_of_the_osage_indians.htm
These links are concerning the Morris family:
http://www.ushistory.org/declaration/signers/morris_r.htm
http://www.history.army.mil/books/RevWar/ss/morris.htm
HUSBAND & WIFE:
Moss, Amelia Elizabeth 'Bessie' Marsden Mar. 14, 1865 - Apr. 30, 1938. Memorial
Moss, Thomas Hennon 1859 - Apr. 27, 1943. Memorial
HUSBAND & WIFE:
Potts, Catherine E. Duer 1860 - 1941.
Potts, James Jefferson 1858 - 1923.
HUSBAND & WIFE:
Short, Ada Moss Dec. 28, 1882 - Jan. 11, 1930. Memorial
Short, John M. Oct. 15, 1874 - Nov. 11, 1916. Memorial
Skaggs, Lula Belle Roderman Nov. 21, 1889 - Nov. 21, 1930. Daughter of Frank Roderman.
Tinker, Anderson Oct. 17, 1883 - Feb. 6, 1919. Born in Ellington; died in Carter County. Son of F M Tinker & Sarah Hanger (or Hauger). Woodcutter.
HUSBAND & WIFE:
Tripp, John Elliot Dec. 16, 1853 - Apr. 26, 1929. (aka John Ellis Tripp) Son of Wyle Tripp and Jane Hart. Died of acute myocarditis, contributory severe cold. Death certificate states birthday is 16 Nov 1856, then a supplementary DC changes that to 16 Nov 1852. Photo Descendancy Report
Tripp, Ruth Sullivan Williams Apr. 15, 1867 - Nov. 18, 1940. (2nd wife) She was the daughter of Henry Sullivan and Rachel Smedly of Ohio. She was divorced from Charles Williams. She died of apoplexy. Informant was Thomas Wilson Tripp of Ruble, Missouri. Photos
Tripp, Mary E. Britt Aug. 4, 1894 - Jul. 10, 1934. Died from injuries to being struck by an auto. Death certificate states birthday as 12 August 1894. Photo
Underwood, Elmer Aug. 1, 1916 - Apr. 5, 1918. Died from measles. Son of Everett H. Underwood & Esther E Bunch.
Underwood, Everett H. Apr. 2, 1890 - Jul. 1, 1919. Son of William Morgan Underwood and Alice Ferguson. Married Esther E. Bunch. Died from pulmonary tuberculosis. Memorial
Wakefield, Edna Died Mar. 20, 1919.
Wakefield, Stella Moss Died Mar. 20, 1919
© 2003 - 2014 by Shannon County Coordinators or individual contributors as shown. No portion of this site is to be considered public domain and is not to be reproduced for any purpose without express written consent of the owner of the material.