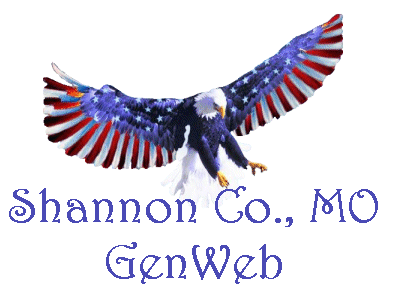 BAPTIST HILL CEMETERY
a/k/a Old Baptist Cemetery
Winona Shannon Co MO
Located at Winona on Old Hwy. 60 in southwest part of town, between the intersections of south Hwy. 19 and north Hwy. 19.
(Just up the hill from the car wash, on the left, and directly across the highway from the senior citizens apartments and Trace Pond).
This is a very old cemetery. Many years ago a sink hole appeared and a lot of graves disappeared.
There are obvious locations of graves throughout the cemetery that are unmarked, sunken in or overgrown, and unidentifiable.
It is certain that all the burials in this cemetery are not listed, but as many as are known are here.
Please contact me with additions or corrections.
Rev. Oct. 30, 2008
A - B - C D - E F - G H - I J - K L - M N - O P - Q R - S T - U - V W X -Y -Z
---
FRAULIE, Isabel Died Dec., 1890. Mother of Thomas & William Dye.

FRY, Evert L. 30 June 1910 - 28 Feb. 1914.

MO Death Cert.#

11249: Everett Lery Frye. Jun. 30, 1911. Born & died at Winona. Son of James H. Fry (MO) & Catherine Phillips (MO). Burial Mar. 1, 1914.

HUSBAND & WIFE: Married 26 Oct 1866.
GALENOR, John 18 Feb 1846 - 26 Sep 1934. MO Death Cert.#34940: 13 Feb 1846 (Pulaski Co MO) - 26 Sep 1934 (Winona Shannon Co MO). Son of Joseph Goleanor & Edith Bryant.
GALENOR, Nancy Jennings 11 Apr 1849 - 10 Jan 1916. MO Death Cert.#4817: Nansy Geleno; 7 Apr 1849 (KY) - 10 Jan 1916 (Winona Shannon Co MO). Daughter of Sylvestor Jennings (KY) & (looks like) Athreagle Boatman (KY). (Difficult to read the handwriting on this certificate). Informant Silas E. Bradley, Winona. No information regarding burial on the death certificate.

There are variant spellings of the surname of this family: Golenor, Goleanor, Galeanor.

GALENOR, Viola J. Died 6 Sep 1897. 'Age 18y 2m 4d' Daughter of John Galenor & Nancy Jennings.

GRANHAM, Archibal T. Born & Died 26 May 1890. aka Archebel F. Grantham. Son of Allen J. Grantham & Susan A. Moon.

GRANTHAM, Hanet E. 31 July 1892 - 13 Sep. 1893. Daughter

of Allen J. Grantham & Susan A. Moon.

GREELEY, Caroline 15 May 1843 - 28 Aug 1900. Born in Warren Co IN; died at Winona, age 57. Married E. B. Greeley in 1866. GREELEY, Ralph 30 Jan 1900 - 01 Feb 1900.

GREEN, F. S. Only date, died 21 Apr 1909, age 37.

GREEN, James Bartlett 31 Jan 1844 - 04 Apr 1934. (Possibly the son of Hiram & Rebecca Green(e).

GREEN, Sarah Melton Died 07 Apr 1893. Obituary



GREEN, Sarah Elizabeth Henson Jun. 16, 1852 - Mar. 17, 1913. MO Death Cert.#3561: Has year of birth 1853. Date of death is Jan. 13, 1914. Born at Bloomfield MO. Age 61y 6m 14d. Daughter of Singleton Huston Culp & Sarah E. Culp (NC). Informant (?) Phillips, Winona. Burial Jan. 14, 1914.

GROSS, Alice A. 19 May 1865 - 24 Sep 1907.

GROSS, Elizabeth Kerr Sipes 02 Sep 1871 - 10 Aug 1937. MO Death Cert.#39171: Born in Saline Co MO; died at Winona; widow of W. P. Gross. Daughter of Alfred Sipes (IN) & Harriett Whitehead (IN). Informant Enda Kerr, Winona. Burial 15 Aug 1937. (No explanation for the five days period between date of death and date of burial.)

GROSS, Lester G. 22 Dec 1906 - 30 Jun 1907.

GROSS, Stella M. 17 May 1893 - 03 Aug 1905.

GUNDRE, W. Clyde May 20, 1890 - Apr. 12, 1896. 'Only son of William & S. C.'


---