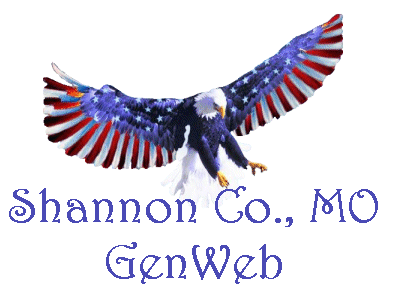 BAPTIST HILL CEMETERY

a/k/a Old Baptist Cemetery

Winona Shannon Co MO

Located at Winona on Old Hwy. 60 in southwest part of town, between the intersections of south Hwy. 19 and north Hwy. 19.
(Just up the hill from the car wash, on the left, and directly across the highway from the senior citizens apartments and Trace Pond).

This is a very old cemetery. Many years ago a sink hole appeared and a lot of graves disappeared.
There are obvious locations of graves throughout the cemetery that are unmarked, sunken in or overgrown, and unidentifiable.
It is certain that all the burials in this cemetery are not listed, but as many as are known are here.

Please contact me with additions or corrections.

Updated Feb. 22, 2014

A - B - C D - E F - G H - I J - K L - M N - O P - Q R - S T - U - V W X -Y -Z

DOUBLE:
DAILEY, Rachel 'Jane' Holiday 2 Apr 1857 - 27 Sep 1950. Daughter of David King Holiday (Equality, Gallatin Co IL) and Millie Elizabeth Anderson (Shawneetown, Gallatin Co IL). MO Death Cert.#35903: Age 93 yrs. Has father's name as T. K. Holliday. Born Centralia IL. Died at Winona Shannon Co MO, at her residence. States husband deceased. Informant (son) George Dailey, Winona. Burial 29 Sep 1950.

DAILEY, Andrew 1841 – 1907. Born in Indiana. Photographs of Jane & Andrew are posted on the photo pages of this website.

Notes from Ona Fern Warren: Millie Elizabeth Anderson was the daughter of John Paul Anderson of Illinois. He and his wife are buried in Illinois. Another good website on this family is http://freepages.genealogy.rootsweb.ancestry.com/~mcgee/d/a_d841/a_d841.html

DAVIS, Edward W. 25 Dec. 1857 - 15 Dec. 1910. MO Death Cert.#8202: 25 Dec. 1856 – 15 Feb. 1910. Husband of Sina Biggs. Son of George W. Davis (PA) and Matilda (looks like) Mayfield (PA). Occupation Stationary Engineer, lumber mfg. Born West Virginia. Died at Winona MO. Usual residence West Virginia. Cause of death 'Injuries caused by explosion of steam chest of 'stateman engine'….contributory: shock. Informant Ethel Davis. Burial 17 Feb 1910.

DAVIS, Bessie C. 25 Nov. 1894 - 30 Sep.1913. MO Death Cert.#32646: Daughter of E. W. Davis (WV) and Sina Biggs (MO). Born in Missouri, died Springfield Greene Co MO of gastritis. Informant Ed Hunter, Springfield. Burial 3 Oct 1913.

DEPRIEST, Rose Etta 1872 - 1904. Wife of Edward M. DePriest.

DOUBLE:
DESPAIN, Bashobey E. 25 Dec. 1888 - 3 Sep. 1890. Daughter of David A. Despain & Mary E. Unknown.
DESPAIN, John F. 25 Aug. 1883 - 7 Oct. 1884. Son of David Ada Despain & Mary E. Unknown.

HUSBAND & WIFE:
DESPAIN, Mary Ellen Brame May 4, 1860 - May 26, 1898.
DESPAIN, David Aaron 23 Feb 1857 – 29 Dec 1937. MO Death Cert.#46901: Widower of Mary DeSpain. Parents unknown to informant Jeff (looks like) Wavery, Winona, MO. Occupation: newspaper route. Born in Illinois, died at Winona. Burial 31 Dec 1937.



DOYLE, Arleen Born & died 1912

.



DOYLE, Ettie Born & died 1912

.

HUSBAND & WIFE:
DUNCAN, Rev. George W. Died Jul. 5, 1895. 'Aged 37 years'
DUNCAN, Cynthia Died Jul. 5, 1895. 'Aged 44 years. Wife of George W.'

This family, including daughter Mattie (listed below) was killed in the flood of Jul. 5, 1895 that virtually took the whole town of old Winona. A married daughter of the Duncan's, Mrs. Crawford, and her daughter, Gert Crawford, were killed. The Duncan's son was rescued. Eleven people were killed in the flood.

NOTE: Shannon County Cemeteries Book has that the grave is marked with a triple marker. It may be that the parents are listed on the other sides of the marker shown as Mattie's. The only photo I have is the one with Mattie's name listed.




DUNCAN, Mattie Died Jul. 5, 1895. 'Aged 11 years. Daughter of Rev. & Mrs. George W. Duncan.'DUNN, Brenda S. Born & died 1968.





DOUBLE:

Married about 1876.


DUNN, Lewis Calvin 'Luke'. Jan., 1853 – 1929.

a/k/a Louis. Son of Montillion Dunn & Elizabeth Catherine Pipkin. Parents of William J. (m. Nancy Jane Birlew); Montillion Boston (m. Ada D. Wilson); Lewis Albert (m. Willie Etta Williams); Bertie S.; James A.; Ira Otis and Lillie Dunn.




DUNN, Mary Elizabeth Carter 1860 – 1920. MO Death Cert.#18495: Daughter of Ned Carter. Married. Born 14 Mar 1860 at Shannon Co MO; died 9 Apr 1920 at Winona. Informant Otis Duncan, Winona. Burial 11 Apr 1920.



DUNN, Lucinda Birlew 1882 - 3 Jan 1913. Daughter of Stephen Birlew & Nancy Jane Taylor. Wife of John Jasper Dunn. Mother of Ernest Claude Dunn & Flossie Bell Dunn.

DUNN, Vergie Bernette 12 Aug 1899 - 12 Apr 1891. Infant daughter of Lewis Calvin Dunn & Mary Elizabeth Carter.




DYE, Otis G. 31 Oct. 1893 - 16 Aug. 1903. 'Age 9y 9m 6d. Son of William H. C. Dye & Mary J. Nettles.

NOTE: Shannon County Cemeteries Book has

Otis C. Dye, son of W. C. & Mary Dye.


EDWARDS, Infant Died Oct. 30, 1891. 'Age 18 mos.' 'Child of Stephen.'

EVANS, Elsa L. Sep. 4, 1903 - Oct. 8, 1904. 'Son of Mr. & Mrs. J. M. Evans.'

© 2003 - 2017 by Shannon County Coordinators or individual contributors as shown. No portion of this site is to be considered public domain and is not to be reproduced for any purpose without express written consent of the owner of the material.