Hwy. H, Rocky Creek
.
Allen, Thomas 1834 - 1862. Son of Thomas Allen and Elizabeth Suggs. Born & died at Eminence. Married Sarah Jane Laxton. (She is buried at Massie Cemetery). Father of Alexander and Jesse Allen. He was roped by Bushwhackers and dragged until he died. (Information source Genevieve Kile).

Thomas Allen and another unknown person were killed by Jayhawkers on Mahan Creek They were found by local residents and buried next to Mahan Creek. I don't know if this was first burial here or not. Graves were only marked by field stone and later pine posts until 2001 when regular headstones were placed. Thomas Allen served with the Missouri State Guard during the Civil War. Don't know if he was on active duty at the time of death. (Information source Thomas Hollis on FAG).

DOUBLE:

Married 30 Nov 1904 in Shannon Co MO.


Callahan, W. Arthur Sep., 1882 - 1970

.


Callahan, Rhodia Pritchard Feb., 1885 - 1962

.

Daughter of Michael Gabot Pritchard & Catherine Ellen Alexander.



Carter, Tammella Rose Born & Died Dec 28, 1959

.

Daughter of Rosa Roberts & George Robert 'Bob' Carter.Cox, Bethey Jun. 12, 1911 - Nov. 25, 1912. MO Death Cert.#38083: Daughter of John W. Cox (MO) & Ada Haley (AL). Burial Nov. 27, 1912.

Denning, Enos Ian Edman Oct. 23, 1919 - Sep. 28, 1922. Son of Marley Calvin Denning (Lawrence Co OH) & Daisy Beloat. Born & died at Shannon Co MO. MO Death Cert.#27743: Burial Sep. 28, 1922.

HUSBAND & WIFE: Married 02 Jan 1897.
Denning, Mary Elizabeth 'Lizzie' Beloat Feb 26, 1880 - May 14, 1956

. Daughter of Joseph Beloat & Mary Fife. Born Winona Shannon Co MO. Died Shannon Co MO.


Denning, William Jesse Calvin Denning, Sr. 'Call' Apr. 30, 1850 - Dec. 26, 1941.

Age 91y 7m 26d.

Son of Jesse Denning & Minerva Neal. Born Aid Twp Lawrence Co OH; died Shannon Co MO. MO Death Cert.#3835: Burial Dec. 27, 1941. Informant John Denning, Winona.

Duncan, Frances E. Oct 9, 1904 - Jul 28, 1905

.



Duncan, Kendrick Carl Jun 30, 1847 - Apr 18, 1905

. Update: This is my great grandfather. In the censuses he was identified as either C.K. Duncan or Carl K. Duncan. Therefore it is questionable whether his name is Carl Kendrick Duncan or Kendrick Carl Duncan. I rather suspect it is Carl Kendrick Duncan since he was listed with his parents when he is identified as C.K. or Carl K. Duncan. ~ JPMitchell

Duncan, Minnie Florence Johnson Huff Mar 18, 1875 - Jul 24, 1900

. Wife of Jessie Duncan. It is likely other members of their family are buried here.





Duncan, Ray Hampton Dec. 1, 1911 - Aug. 12, 1912.

Green, Jasper Aug. 9, 1866 - Jan. 8, 1942. MO Death Cert.#22421: Son of Enoch Green (KY) & Dora Rachel Sparks (KY). Born at Breathett Co KY. Husband of Ida Green. Informant Lawrence Murphy, Winona. Burial Jan. 10, 1942. NOTE: His wife was Ida Belle Rice (Apr. 11, 1877 - Dec. 13, 1956). She is buried at Fremont Cemetery Fremont Carter Co MO. MO Death Cert.#40850.

Horney, Elizabeth Marrow Jul 15, 1868 - Dec 20, 1929. MO Death Cert.#43143: Born in Tennessee; died at Buckeye Twp (Rocky). Daughter of David Marrow & Polly Ann Nichols, both born in Tennessee. Married to Eli Horney. Informant was Sam Bell of Winona. Burial on the 21st.Ireland, Ruby Jul 13, 1901 - May 31, 1902. Daughter of Andrew F. & Eliza Ireland

.

Kile, Alexander   Abt. 1846. Son of James Kile & Sarah 'Caroline' Suggs.

Married Mary Chilton.

HUSBAND & WIFE: Married 28 Jun 1885 at Shannon Co MO.
Kile, Effa Ann Kelley Oct. 15, 1868 - Jan. 15, 1924. Daughter of Josephus S. Kelley & Margaret 'Jane' Norris. Born at Aid Twp Lawrence Co MO. Died at Buckeye Shannon Co MO. MO Death Cert.#3290: Burial Jan. 16, 1924.
Kile, James Nelson Apr. 25, 1861 - Jun. 24, 1945. Son of James Kile & Sarah 'Caroline' Suggs. MO Death Cert.#21504: Burial Jun. 25, 1945. Parents of William 'Willie' 'Gid' Kile, Caroline J. Kile, James W. 'Buck' Kile, Laura Jane Kile and Joseph Michael Leroy Touhey 'Roy' Kile.

Levengood, John William Apr. 14, 1843 - Apr. 17, 1925. MO Death Cert.#11095: Son of Isaac Levengood (KY) & Margaret Earl (KY). Widowed. Married Margaret Johnson. Informant John Levengood, Van Buren MO. Burial Apr. 18, 1925. It is likely that Margaret Levengood is buried here, as well, but no confirmation has been found.

Lindsey, Luella Duncan  Sep 8, 1886 - Jul 23, 1912

.

Daughter of Sylvester Marion Duncan & Martha Kissiah Bailey. Married John L. Lindsey 25 Sep 1910 in Shannon Co MO.

McCall, Laura Jane Kile Sep. 16, 1890 - Mar. 13, 1912. Daughter of James Nelson Kile & Effa Ann Kelly. Wife of Tobias McCall. MO Death Cert.#15856: Died of lobar pneumonia at Buckeye Shannon Co MO. Burial at Reed March 15th. Informant Tobias McCall, Flip, MO.

McCabe, May Millison Pritchard Jul. 24, 1891 - May 18, 1910. Daughter of Michael Pritchard & Catherine Ellen Alexander. Married James McCabe, Jr. No death certificate found.

Morgan, Alice Jane Pritchard Dec. 13, 1878 - Apr. 17, 1908. Daughter of Michael Pritchard & Catherine Ellen Alexander. Married William T. Morgan 02 Jun 1901 at Shannon Co MO.

HUSBAND & WIFE: Married ca. 1876 in Batesville AR.
Pritchard, Michael May 7, 1823 - Feb 7, 1900.  FHM

.


Pritchard, Catherine Ellen Alexander Dec 25, 1855 - Oct 17, 1943. FHM

. MO Death Cert.#37967: Daughter of Plaiz Alexander (TN) & Rhoda Forester (TN). Died in Pike Twp Carter Co MO. Widow. Informant Mrs. Charles Randolph, Fremont. Burial Oct. 19th at Mill Creek.
They were the parents of Alice Jane (m. William T. Morgan); John W. (m. Dessie Lane); Rhoda (m. W. Arthur Callahan); Michael Gabot Pritchard, Mae Millison (m. Unknown McCabe) and Hattie (m. Charles Albert Randolph).

NOTE: There are several graves in this plot, some with markers that are missing the information.

Newton, Thomas J. 1840 - 1886. Married Ruhanna Rumberg 04 Feb 1883 Shannon Co MO.



Pritchard, Michael Gabot May 7, 1891 - Dec. 13, 1952. Son of Michael Gabot Pritchard & Catherine Ellen Alexander.

Pritchard, Unknown b. - -86 - d. 19- - .

HUSBAND & WIFE: Married 02 Sep 1914 Shannon Co MO.
Randolph, Hattie F. Pritchard Jul 22, 1894 - Nov 24, 1981

. Daughter of Michael Pritchard & Catherine Ellen Alexander.


Randolph, Charles Albert 'Charley' May 30, 1891 - Dec 13, 1952

.

Son of Jasper Randolph and Martha Thomas

.

Parents of Enza (m. Norman Richard Hollis, m. Clarence 'Hank' Harron), Bonnie (m. James Fowler) & Eunice (m. Daniel Douglas Pennington.

NOTE: In a previous list, Charley A. Randolph was incorrectly shown as the son of George Washington Randolph and Harriet Mooney Randolph. He was a brother of William B. Randolph. His death certificate (#43234) correctly lists Jasper and Martha as his parents and also shows Hattie as his wife.
Jasper Randolph and George Washington Randolph were brothers - sons of Burton Randolph and Elizabeth Warren Randolph.

*Updated information from Judy Atkisson.
Reed, David 'Clinton', Sr. Jun. 8, 1828 - Jul. 13, 1903.
THE CURRENT WAVE
July 23, 1903

D. C. Reed Dead...
Judge D. C. Reed of Winona died Wednesday, and his funeral occurred at the old burying ground near the Osborne, or Patrick, farm on Rocky on Thursday. Mr. Reed was 73 years old, and a man well known in Shannon County where he filled positions of honor and trust. He had been sick some time prior to his death. The Wave joins his many friends in extending sympathy to the bereaved family.

A SKETCH OF THE LIFE OF D. C. REED.....

Hon. D. C. Reed, who passed into the spirit world at his home in Winona on the 13th inst., was a man well and favorably known throughout Southeast Missouri in general and Shannon County in particular as his is a record dating from the antebellum days into and through the War of the Rebellion and down to, and including, the election of 1902.
Deceased was born in Roan County, Tennessee, June 8th, 1828, and lived to pass his 75th mile post.
At an early age he came with his parents to Shannon, then Ripley County, where he continued to reside the principal part of his life.
In 1852 he was chosen by the people of his county to serve in the capacity of Sheriff and Collector and was elected to the same position in 1854; two years later he was elected Representative, defeating Hon. Joshua Chilton.
He served as Captain of a Company in the Regiment of Colonel Boone under the control of the celebrated Jeff Thompson until 1863 when poor health procured his discharge and he returned home and remained with his family until the close of the Rebellion.
In 1866 Mr. Reed was given the Office of Assessor and the voters in 1878 again chose him as their representative.
When in March, 1873, Presiding Judge Thomas Chilton passed over the dark river, Mr. Reed was appointed to fill his unexpired term.
In the year 1888, Presiding Judge Hezekiah Weaver resigned his position and removed from the state, and Gov. Francis appointed Mr. Reed to fill out his unexpired term ending Dec. 31st, 1890.
Since residing at Winona, he served in the capacity of both Marshall and Mayor, and made a hard contest for the Office of Representative in 1902.
He married twice, in early life to a Miss Fansher, and his last wife was a Miss Baker; both preceded him to the spirit world and out of a large family he has three sons and two daughters yet living.
His remains were laid to rest at the old family burial ground at his old home on Current River under the auspices of the Masonic Fraternity of which he was an honorable and highly respected member. ~ Joshua Sholar

NOTES: David 'Clinton' Reed was born Jun. 8, 1828, in Roane County, Tennessee, the son of Thomas Reed (1800-1863) and Mary 'Polly' Chilton (1805-1863). He married 1st Emaline Fancher (1831 – 1851) in 1847 in Shannon County, Missouri; their children were John (1848-1898), Thomas Wesley (1850-) and David Clinton, Jr., (1851-1900). Clinton, as he was called, then married Miss Drucilla Baker (1838-1892) abt 1850 in Shannon County, Missouri. Their children were George Monroe (1854-?), Josephine (1858-1939), Charles R. (1861-?), Amanda E. (1862-1960), Beauregard (1862-?), William L. (1865-?) and Elizabeth (1869-?). He died July 13, 1903, in Winona, Shannon County, Missouri, at the age of 75.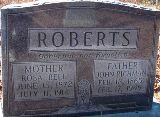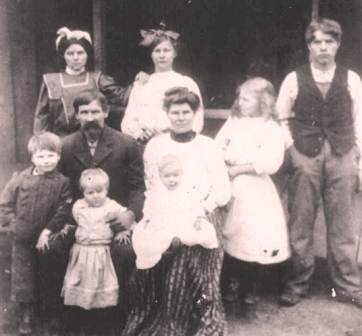 DOUBLE:
Roberts, John Richman Feb 18, 1865 - Feb 17 1949

.

MO Death Cert.#11209: John Richard Roberts.

Born Feb 17, 1865. Born in Missouri.

Son of William Roberts & Mary Unknown, of Benton Co MO. He died of a cerebral hemorrhage. Burial Feb. 19th. He married 1st to

Nancy M. Forth, no children.

He married 2nd

Sarah R. Allen; children Lizzie Pearl, Lori A., Maggie E. and Lola B. Roberts.

He married Rosa 'Alice' Hallett after Rosa Bradley Remby's death.


Roberts, Rosa Belle Bradley Jun 15, 1874 - Jul 11, 1914

.

MO Death Cert.#2;8218:

Rosey B. Roberts. Daughter of Jonathan 'John' Bradley & Mary? Skaggs. Second wife of John. Married 1st Jesse J. Remby 24 Sep 1890.

Children of Rosa and Jesse were Maude Elizabeth Remby Grandstaff (21 Mar 1891 - 24 Oct 1972) and

William Claude Remby

(31 Oct 1892 - 23 Aug 1971). Died of complications from childbirth. Informant J. R. Roberts. Burial Jul. 12th.

Obituary

Children of John & Rosa Bradley Remby Roberts: Ivy Frances Roberts; Daisy M. Allen (Mrs. Earl Allen);

Charles 'Lee' Roberts; Frank Wesley Roberts; Goldie Beatrice Sloan and

Mamy Opal Roberts.

Another source has also children

Rosie Roberts (b. 1901); Laura Roberts (b. 1903) &

John 'Earl' Roberts,

a/k/a Earl Everett Roberts.

NOTE: Mamy Opal's death certificate lists her father as John Richard Roberts. Great granddaughter Brenda Roberts Counts verifies his name was John Richman Roberts.

MO Death Cert.#24277 for Mary Elizabeth Bradley Roberts, wife of William Daniel Roberts, of Benton Co MO. She was a sister of Rosa Belle Roberts.

William Daniel Roberts was a brother of John Richman Roberts.

Daisy M. Roberts married Earl Allen. Daisy was born 04 Sep 1900 at Buckeye Twp Shannon Co MO, and died 04 Jan 1997 at Shannon Co MO.

Daughters Rosie and Laura died in infancy.

John 'Earl' Roberts,

a/k/a Earl Everett Roberts,

married Hannabel Ireland. He was born 16 Jan 1906 at Buckeye Twp Shannon Co MO, and died Dec 1976 at Lawrence Douglas Co KS.

Charles 'Lee' Roberts married Telsie Callahan 19 Jul 1927. Lee was born 28 Feb 1908 Buckeye Twp Shannon Co MO Buckeye Twp Shannon Co MO, and died 1982 at Olathe Johnson Co KS.

Frank Wesley Roberts married Opal Mae Simpson 03 Sep 1927 at Shannon Co MO. Frank was born 19 May 1910 at Buckeye Twp Shannon Co MO, and died 26 Mar 1968 at Winona Shannon Co MO. Obituary

Goldie Beatrice Roberts married Harlan Timmon Sloan 23 Mar 1929 at Eminence Shannon Co MO. Goldie was born 12 Jan 1912 at Buckeye Twp Shannon Co MO, and died 12 Mar 1995 at Lawrence Douglas Co KS.

Obituary

Sources: Willa Grandstaff, daughter of William 'Clarence' Grandstaff, granddaughter of

Maude Elizabeth Remby

, great-granddaughter of Rosa Belle Bradley Remby Roberts; Brenda Roberts Counts, daughter of William Eugene Roberts, granddaughter of Frank Wesley Roberts, great-granddaughter of John Richman Roberts; death certificates and obituaries.


Roberts, Rosa 'Alice' Hallett Woodworth Nov 1, 1875 - Jun 2, 1950. MO Death Cert.#22468: Widowed twice. Father was John Hallett. Mother's name not known to informant J. A. Woodworth, Winona. Burial Jun. 6, 1950 at Reed. She was the fourth wife of John Richman Roberts. She had been married previously to a Woodworth.

There are several rows of graves neatly marked with piles of rocks or single markers with no markings on them. The arrangements clearly indicate these are graves. There are flowers planted around many of them.]

Unknown_01
Unknown_02
Unknown_03
Unknown_04 This might be the grave of Rosa 'Rosie' Roberts. A family member remembers at one time there was a funeral home marker with the name still on it. It would likely be the child of John Richman Roberts & Rosa Belle Bradley who was born and died in 1903.
Unknown_05
Unknown_06 May be a Pritchard family member.
Unknown_07 Duncan Funeral Home Marker
Unknown_08
Unknown_09
Unknown_10
Unknown_11
Unknown_12
Unknown_13
Unknown_14
Unknown_15
Unknown_16 and 17 These two graves and two listed next are all in a row up by the fence.
Unknown_18 and 19 There is also a small stone to the right and in front of the stone on the right which may be a separate grave.
Unknown_20
Unknown_21
Unknown_22
Unknown_23
Unknown_24
Unknown_25
Unknown_26
Unknown_27
Unknown_28
Unknown_29
Unknown_30
Unknown_31
Unknown_32
---
Return to Shannon County Cemeteries Index
©2003 - 2016 by Shannon County MOGenWeb Coordinators or individual contributors as shown. No portion of this site is to be considered public domain and is not to be reproduced for any purpose without express written consent of the owner of the material.