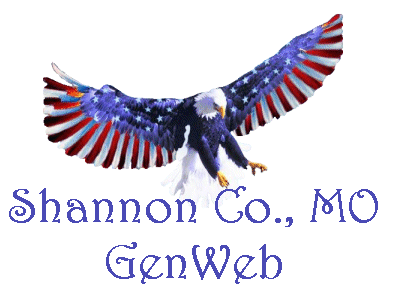 ALBERT A. WILSON
Photographer
Albert Wilson was born in Du Quoin, Illinois in 1866. He came to Shannon county, Missouri in the year of 1876. He was elected as Surveyor of Shannon County in 1896. He was a carpenter and a farmer. He also helped in the construction of several local buildings - also assisting in the construction of the Old Red Mill at Alley Springs, Mo. in the 90's, and with the construction of Story's Creek School in the 90's. He was grandfather to Dewey and Wilson Spurgin, Joe and Leonard Burnett and Lilly Holland.
Obit of Albert A. Wilson
Albert Archibald Wilson was born in DuQuoin, Perry County, ILL. on January 7, 1866 and departed this life at his home on Sinkin Creek, Shannon County, Missouri, December 12, 1925, at the age of 59 years 11months and 25 days. His death was caused by cancer of the stomache.
Albert came to Missouri with his father when he was a small boy. He was raised near Summersville, Texas County, Missouri, and at the age of eighteen, married to Miss Sarah Clementine SCHOEMATE, on October 21, 1884. To this union eleven children were born. Five of these children died when small. One daughter, Mrs. Alta Jane HOWELL, died at the age of 23 years. Five children are still living. Mrs. Bessie M. BURNETT, Eminence, MO., Mrs. Lillie B. SPURGIN, Eminence, MO., Grover C., Rector, Mo., William A., Hardage, MO, and Mrs. Beulah E. Lagrand, Elvins, MO.
Albert's first wife died at Eminence, Mo. on October 11, 1908 and on December 28, 1910, he married again to Miss Cora B. WEESE, of Wellsford, MO. To this second marriage two children were born. A little son, Albert Jarl, died when eleven days old, and Ena L., now 13 years of age. Albert had been in very poor health for about five years. He was a loving husband and father, and will be sadly missed by all who knew him.
Besides his wife and children, he leaves to mourn his loss, a mother, Mrs. Jane CHILTON, of Illinois, a step-mother, Mrs. Priscilla Wilson of Summersville, Mo., a brother, Frank of Illinois, a half-sister, Mrs. Della TUTTLE, of Summersville, MO, and twelve grand-children. All of his children were at his bedside when the end came.
He was laid to rest in the Medley Cemetery on December 13, 1925.
(signed) One who loved him.
http://www.perrycountyillinois.net/sub160.htm
© 2003 - 2017 by Shannon County Coordinators or individual contributors as shown. No portion of this site is to be considered public domain and is not to be reproduced for any purpose without express written consent of the owner of the material.